How To Hire A Wedding Videographer: Step One
Howdy, my friends
The title says it all, so let's dive right in on how to hire a wedding videographer. Specifically the most important step (which we'll get to soon).
You send them an email, usually through a contact/inquiry form to fill out on their website.

You'll get a reply saying whether or not they're available during your wedding date.

If available, they'll send a pricing package for you to find out more on the services/products they provide.

If they're not available, they will most likely forward you a list of other wedding videographers / cinematographers / filmmakers that they believe would fit your interests.

Once you decide on the type of services you'd like from your tentative wedding filmmaker, they'll send you a contract form to fill out and send back, as well as a reservation deposit invoice to officially book you and your day. Method of payment ranges between different wedding cinematographers, from paypal, to credit, to cash, to maybe even food (loljk, please pay your vendors with their desired monetary exchange).

You'll keep in touch until your wedding date, updating your filmmaker with any major changes in schedule or notable events.

Then on your wedding day, you can leave it up to your dedicated videographer to capture all the necessary shots, direct you and your gorgeous family, and provide an amazing experience you'll never forget.

Then a few weeks-months later, you'll receive your special wedding film package!
Dandy, right? Maybe. Maybe not.
How do you know you'll be getting a film you'll love? How do you know it'll be that loving family heirloom for generations to watch? How do you know it will encompass the type of love you and your partner share?
Before any of the above steps, here is the most important first step in hiring a wedding filmmaker:
KNOW WHAT STYLE OF FILM YOU WANT
Know what type of end film you want to rewatch every year/month/day. This is probably the hardest part for most couples to wrap their heads around as they juggle the many details of wedding panning. You, the lovely bride or dashing groom, have a responsibility on both yourselves and the hired vendor to be on the same page with each other's wants.
Side-Note: There are many examples on YouTube, but my favourite curated films are up on Love Stories TV (though I hardly update my own channel) and over at Junebug Weddings
No decent wedding vendor will ever want to offer you something just because you're handing them money. The good ones know when to say no, when their type of work won't fit with what you're looking for, when the money isn't worth the requirements/energy you need to fulfill your dream video. This is why they'll send you to another filmmaker (it's never personal, strictly good business).
SIDE-RANT: Yes, wedding vendors are still people. Please understand that they have their limits and not everyone has the ability (or even wants the ability) to pull certain things off. Please please please don't expect a Hollywood movie from someone without watching their current portfolio. And most of all, don't expect everyone to do what you see on YouTube.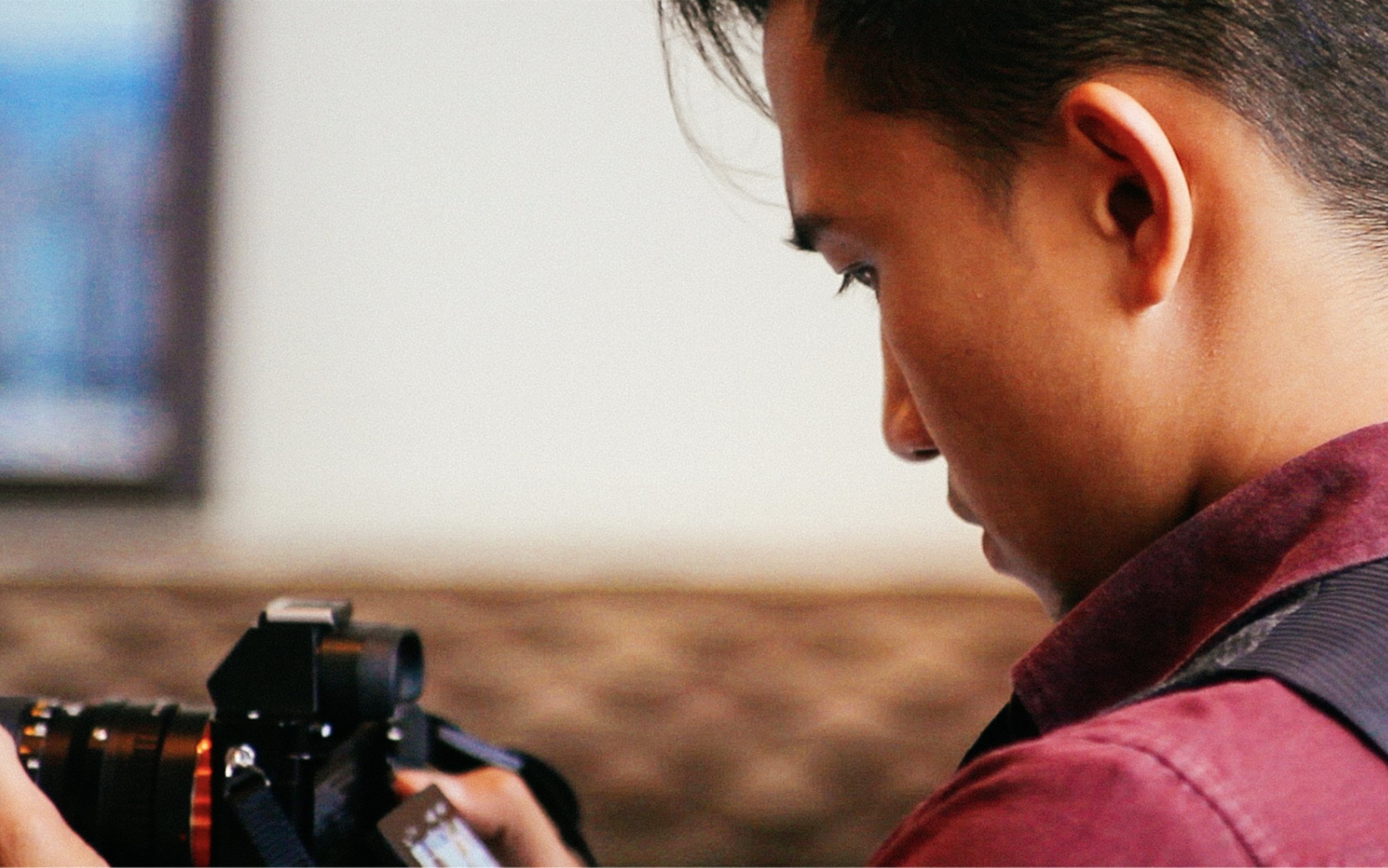 The very first wedding I ever shot was at the restaurant I washed dishes in
Summer 2014
(I got paid in experience)
TYPES OF WEDDING FILM STYLES
Here is a descriptive list of the most popular styles of wedding film on the interwebs (at least from what I've seen)
Disclaimer: These are probably the most extreme of each style. Most people will show signs of each style, but will tend towards one. Also, these are just my arbitrary terms that I've attributed to the descriptions – different filmmakers may call their style something totally different.
The Cinematic Music Video:
The cinematic music video is typically a highlight reel of the entire day, ranging between 3-6 minutes (though could go over, depending on who it is). This mostly, if not only, relies on a song as the audio soundtrack for the entire film. This is probably the most popular type of wedding film out there. The type of filmmaker that makes these (regardless of camera equipment count), lives for those epic, cinematic, awe-inspiring shots that Christopher Nolan would be proud of. The type of editing is generally upbeat, sticking to the rhythm of the background song, keeping you and any audiences bobbing their heads while reminiscing on your exciting day. The main film generally has minimal audio snippets from the day (in comparison to other styles of film).
To this filmmaker, this is what you're typically asking for:
an 8-12 hour day,

a post-production time that could take many many non-stop days to finalize and perfect (this doesn't mean you'll get it in a number of days though – vendors have other responsibilities as well. The lucky ones may even have lives lol),

2-5 filmmakers on your wedding day

hungry stomachs
The good ones will give you everything they can handle, but only if you can give them what they need.
2. The Documentary:
The Documentary film is the photo-journalistic approach to your wedding day. Capturing and recording throughout the day with minimal interaction or direction for specifically for the camera. Some say this is the most traditional way to record a wedding. This wedding videographer will have their cameras set up on tripods, recording almost every second of the important parts of the day (groom prep, bride prep, ceremony, photo session, reception entrances and speeches, dances). Most of it will be there, in chronological order, without much editing treatment (in comparison to the other styles of film). These wedding filmmakers could be with you for up to 15 hours, recording all the bits that you've asked them to record. The final film is typically an hour to a few hours in length.
To this filmmaker, this is what you're typically asking for:
a 12-15 hour day,

a post-production time that could take many days to finalize and perfect,

2-3 filmmakers on your wedding day

hungry stomachs
The good ones will give you everything they can handle, but only if you can give them what they need.
3. The Short Film:
The Short Film is becoming more and more popular, is seen as more artistic, and is what I tend towards. Typically ranging between 4-10 minutes, this style of wedding filmmaking captures the essence of your wedding day from the recorded audio of the day (e.g. - speeches, ceremony, letter readings), creates a story arc from that narrative, and mixes in cinematic/artful footage on top. The type of editing ranges from abstract editing (think European art film - also my favourite) to classic Hollywood editing (think Crazy Rich Asians – if you haven't watched the wedding scene, please go watch it right now and I will personally provide you with tissues to wipe all your tears). These filmmakers rely on the actual audio of the day to lay the foundation of their story-driven film. Some may even record audio themselves, find other monologues to use, or ask for an after/pre-wedding recording session. Any extra effort makes your final film that much better.
To this filmmaker, this is what you're typically asking for:
an 8-12 hour day,

a post-production time that could take many many many days/weeks to finalize and perfect and is usually shipped in a matter of months,

3-4 filmmakers on your wedding day

hungry stomachs
The good ones will give you everything they can handle, but only if you can give them what they need.
Again, every wedding filmmaker will show varying degrees of each category, and I'm sure other people will have different ways of describing or naming their style. These are my interpretations of film styles I've seen throughout the international wedding filmmaking community. Through Canada, the United States of America, The United Kingdom, The Netherlands, Germany, Spain, France, Italy, Greece, Turkey, Poland, Russia, Malaysia, and The Philippines.
BONUS TIP:
Follow your draft pick of filmmakers on social media. From Instagram, to YouTube, to Facebook, to Twitter. Follow them as much as you can because you want to get to know who they are as a person. Because who they are as a person will spill into what they create as a filmmaker.
Are they the type of person you're willing to spend a whole day with?

Can you relate to them?

Do they know what it's like to get married? To be in a long term relationship?

Will your close wedding guests (family and friends) like them?

Do they frequently show themselves keeping busy doing something totally different from being the best wedding filmmaker you can get?
Know what you want from your wedding to know who you want for your wedding ❤️
P.S. - If my artistic film style is something that you're looking for, please reach out before I'm all the best calendar dates are booked!
P.P.S - There's also still a 14% off promotion until the end of February 2019